Day 1 - Embarkation Day
Leaving Cleveland was a pleasure. We awoke on Sunday morning at around 6:00am to temperatures in the high 20's. All-in-all the morning went pretty smoothly. We had everything packed and ready and with the exception of last minute items like toothbrushes and small items, we were on our way. (Well, Ashley forgot her toothbrush, but we picked one up in Hopkins airport before getting on the plane).
Carrie's father drove us to the airport. Thinking ahead we chose to leave our jackets and coats behind and brave the cold on the drive to the airport. Hopefully, we wouldn't need jackets where we were going!.
"OK, I'm bored. I want to get down now."
- Rick after about an hour in the air on our way to Tampa
Arrived at the airport at about 7:05. We had planned to be there two hours before the flight and we were even earlier that that. Ticket counter was a breeze and the security checkpoint was smooth as well. We made our way to the gate. We hung out and chatted with a few other people who were going to be on our cruise as well. Everybody was excited. We got a little worried when they began announcing that passengers could board the airplane and we had yet to see any sign of Cindy and Rick, when just as we were passing through the gate to the tunnel we heard them yelling "We're here! We're here!". Finally. Sheesh. It seems that they took a detour at the airport lounge and began vacation a bit early. Nevertheless, we were all on our way.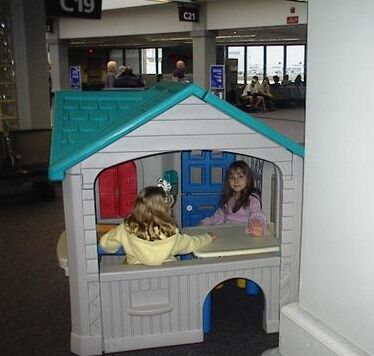 We arrived in Tampa after a uneventful flight to a chorus of cheers. We were even about twenty minutes early. It was raining but at least it was a little warmer than Cleveland. (yeah, about 35 degrees warmer!) We all collected our luggage without incident and followed a lady with a 'Celebrity Cruises' clipboard out to where our shuttle bus would be picking us up and taking us to the Port of Tampa.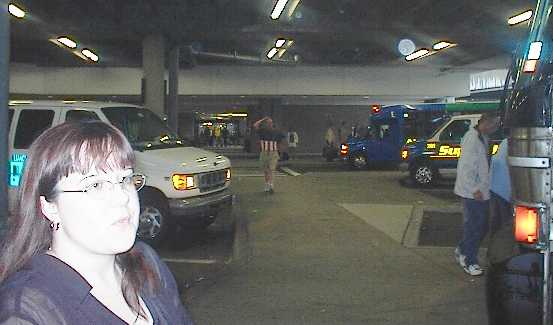 We stood around in the covered parking lot for a few minutes when the bus pulled in! We had our luggage in hand when the nice Celebrity lady informed us that there was a problem with this particular bus. Something with the hydraulics and they were going to send for another bus for us. Would we mind waiting about 20 more minutes? (Like we had a choice?) So we wandered over and sat on some nearby benches. I looked over at Rick when he sighed, "Well, so far this cruise sucks!!" We had all had a long day so far and a little levity was needed. We spent the rest of the time waiting for our bus laughing about what we would do if we were stuck in this parking lot with all our luggage for a whole week. Where would we get beer? Questions to ponder.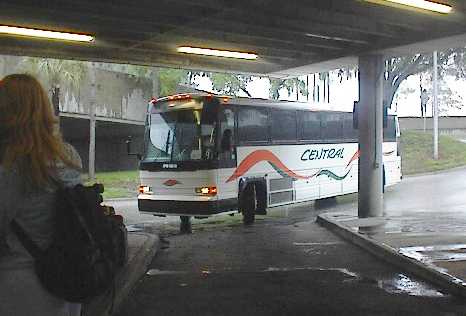 Shortly thereafter, the good bus arrived! We were on our way! After about 45 minutes of traffic we made it to the Port of Tampa. We pulled up to the Celebrity dock and spent more time in line. I've never shown so many different people my drivers license in my life. It seemed everybody wanted to see your I.D. and cruise ticket. We collected our luggage from the bus and a nice big porter-man came by and collected them (we gave him a few bucks - I think they expect tips...) We would not see them again until we got on the ship. (Come to think of it - I think our luggage got on the ship a long time before we did!) More lines. Finally got to the desk and finalized all our information and we were on the gangplank. Just like I had read previously, right at the end of the gangplank is a guy with a camera taking pictures of people who are tired and cranky from travelling and standing in line, but too excited to be this close to getting aboard to give any real attitude. We all got pictures taken. (At least he didn't want to see my I.D.)
"Well, so far this cruise sucks!"
- Rick after being informed we had to wait for a new shuttle bus
Once aboard the ship we were shown to our rooms on the Europa deck (deck 5) and our luggage was right there waiting for us. Soon after our stateroom attendant, Wilson, stopped by to see how old Ashley was. He needed to make sure we had life jackets that fit correctly for our lifeboat drill and wasn't sure if Ashley was an adult or a child. He wandered away to get the correct size for her and we just sort of stared around the room. It was SMALL. But serviceable. We figured that we wouldn't be in the room too often so we weren't going to let this bother us. After Wilson brought back a child-sized life jacket we decided to unpack later and go for a walk and maybe get some lunch (which we heard was being served on the 11th deck in the Coral Seas Café).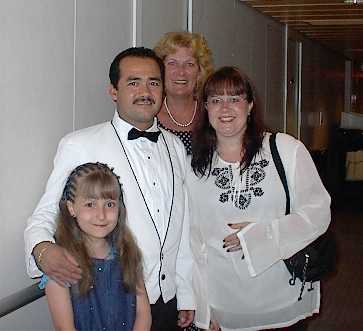 Abandoning the elevators which were in use transporting luggage between decks, we walked the six flights of stairs up the Marina Deck. It was still a bit rainy, but we got a good look at the pool, hot tub and most importantly, the buffet. We got ourselves some trays and set to work on lunch. We ran into Papa Pete who told us that my mother was in her stateroom unpacking and she'd see us in a bit. He introduced us to his sons Bob and Pete and Pete's wife Cathy. Bobby's daughter Nicole wasn't around but we were assured to be meeting her soon.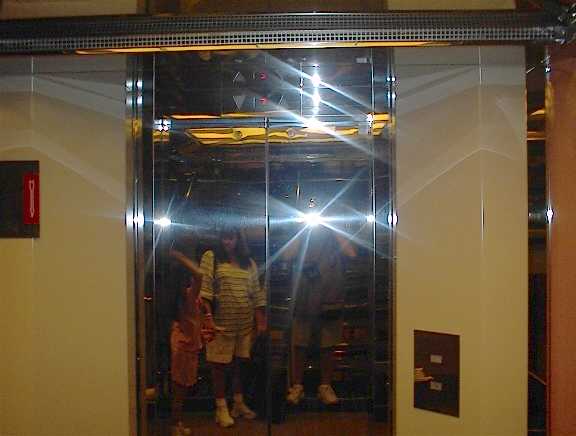 About 4:00 we heard the bells and the announcement to meet in our assigned muster station for the lifeboat drill. Ours happened to be the Palladium Show Lounge, so this was our first peek at what was to to be the main entertainment complex on the Horizon. After gathering us all in the lounge wearing our fluorescent orange life jackets we were led out to the deck where we would be gathering in case of a real emergency. The morning of traveling and standing in too many lines was beginning to affect many people and we were all pretty restless. We got the drill out of the way without incident, however, and were told we were now on vacation. We were free to move about the ship.
"There'd better be a buffet at the end of this march!!"
- Me, after scaling six flights of stairs to get to our first lunch aboard the Horizon
Carrie, Ashley and I then made our way to the Zodiac Lounge which was where they were signing up the kids for their kids programs. We were informed that there were 300 kids aboard this cruise and 140 teenagers!! The kids were all split up into groups based on their age (Ashley was in the 7-9 year-old 'Cadets' group) and each of the youth counselors gave a little introduction speech. They all seemed very nice and Ashley was excited to see what the program had in store for her.
We passed the time until our dinner hour, which was 6:15pm (main seating) and assembled in the Starlight Restaurant. It is really beautiful in there. For as many people as they have to serve, the waiters and busboys work together like a finely tuned machine to make sure everybody stays happy. At our first dinner we were introduced to our waiter, Sandor (pronounced Shan-dor) who, I believe was from Hungary and our busboy Wayan (like the song...'WMCA' - 'Wayan - C - A' as he explained to us.) They were without a doubt the best during the entire trip. The first night I had asked Wayan if I could have two glasses of water since I felt bad that he was making so many stops to refill my glass. The rest of the week I had two glasses of water at my place setting when I sat down. He was equally attentive to everyone at the table, bringing Ashley a hot fudge sundae every night and making sure all unused plates and silverware were out of the way when no longer needed.
After dinner we signed Ashley into the kids program (a running joke all week long was that after dinner, Ashley was in 'the program') and hung out in the Rendezvous Lounge until that evenings' show. The show was the musical comedy of Bob Long that was quite entertaining. A little corny at times but with the all-ages audience in attendance, I felt it was as funny as it needed to be without being offensive. A hell of a piano player too.
Lastly, we dragged ourselves up to the Marina Deck again for the Midnight Italian Buffet. WOW! What a spread! Pizzas, pastas, pastry... and at nearly midnight!! I did the best I could and made a pretty good dent in the pizza tray, but it was too late and we'd had a REALLY long day. We staggered back to our stateroom with big goofy grins on our faces and immediately passed out.
---
Return to INDEX