Day 2 - Key West, Florida (Formal Night)
Woke up to the ship rocking around quite a bit. I'd heard that on a ship this size you'd rarely feel the motion of the ocean. I heard wrong. We felt it. It wasn't too bad though. I got up before the girls and went up to the Marina Deck to check out the scenery. WOW! A clear day and it was much warmer than the previous day in Tampa. We were on our way to Key West and scheduled to dock at around 12:00 noon. Anxious to share this with someone I went back to our room and found the girls stirring and waking up. The only problem I had with the inside stateroom we had was that with no windows, you never knew what time it was or if it was even light outside. This came in handy sooner that we thought, however.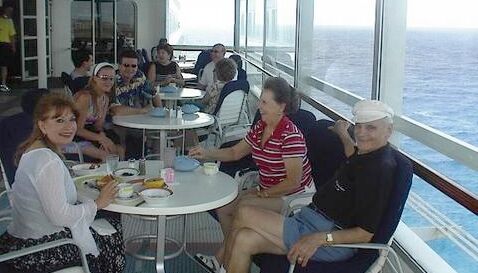 After a nice buffet breakfast we returned to our rooms and got ready to go ashore. Shortly after 12:00 noon we heard the announcement that we should make our way to the gangplank if we wished to go ashore. We wandered down and got in line behind a whole mess of people. "Make sure you have your Signature Card and your I.D. or you cannot leave the ship or return to the ship". These words were repeated every 30 seconds or so as people filed past the little machine you stick your card into before you leave the ship. A few minutes later we were in Key West!!
Our first stop was the gift shop. Wandered around in there for a while and took note of some things that we would return to if we couldn't find them cheaper elsewhere. Strolled along Duvall street and spied the infamous Sloppy Joe's. Stopped in for a beer and looked for any of our family members that had made it off the ship. None so far. Sat and listened to the live music and absorbed the atmosphere before wandering out into the streets again. A little further down Ashley spied a couple of parrots on a perch in front of a live iguana. Like all kids she was entranced. The guy asked her if she wanted to hold them. She said yes, thinking he meant the iguana. He called her up a few steps to a bench and placed one parrot in her hands and another he perched atop her head. He then asked if I had a camera. Of course I did! Just as I got into position to take a photo he told me it would be $10.00 to take a picture. *sigh* I knew it was too good to be true. Just then I saw his sign that did indeed say '$10.00 for photo with your camera, $20 for photo with my camera'. I sighed and agreed since Ashley was already being accosted by a large bird trying to get his footing on her head. I got my money's worth though... I snapped off three pictures real quick and handed him a $10 bill.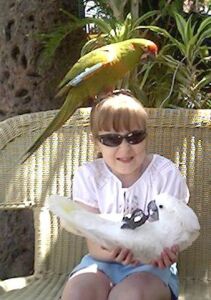 &nbsp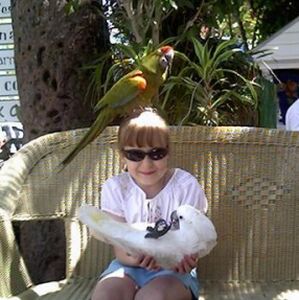 &nbsp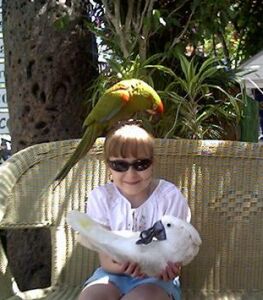 Back to the streets and the shops. We couldn't believe it but none of us had remembered our sunglasses or hats or anything for this type of weather. Into a shop to pick up some shades and we were looking like natives!! Well, real wide-eyed, pasty-white natives...:). I stopped in a store to pick up a pack of cigarettes and I heard this voice from outside say "Well, hello Ashley! How are you?" Wondering who my daughter could possibly know in Key West, I was amazed to find her and my wife chatting with one of the youth counselors from the ship. We were really impressed that after only one night of being in 'the program' Ashley was remembered by name. I can't say enough good things about the youth program on the ship. Really top notch.
"Y'know what I'm doing now? I'm hugging Key West!"
- me, running down Duvall street with my arms open after sight-seeing in Sloppy Joes
After some more walking we worked our way back to Sloppy Joe's to see if anyone we knew had made it there yet. We were in luck! Cindy and Rick we sitting at the bar having their last beer. Well, that changed when we walked in, as we joined them and they had 'just one more'. Ashley got a Shirley Temple with lots of cherries which she enjoyed. Nearing the end of our relaxing drink, Bobby and Nicole wandered in. "So here's where you guys are!!" Needless to say 'one more' was called for once again. After about three more rounds of 'one more' and a couple more Shirley Temples we all decided to make our way back to the ship before it left without us.
Returning to the ship, we walked back to our rooms to shower and get ready for dinner. Tonight was the first formal night. Suits and Tuxes and dresses abound (Actually, there really were more suits than tuxes). Everyone really looked nice. There was one problem, however. By the time dinner got underway, we had left Key West and were on our way to Costa Maya. All through dinner, I was REALLY feeling the motion of the ship. I don't know if it was the sun or the time spent in Sloppy Joe's or what but I was starting to feel a little green around the edges.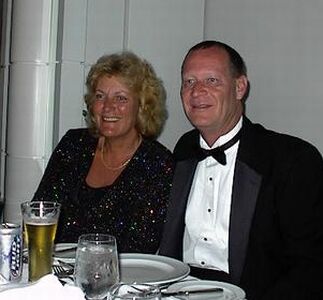 &nbsp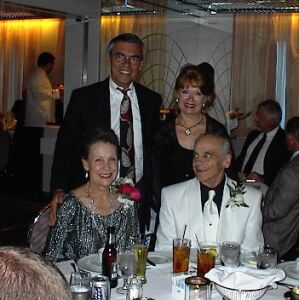 Excusing ourselves from dinner just before dessert, Carrie and Ashley and I wound up back in our room. Here is where I found out that Carrie was just as bad, if not worse off than I was. After taking shifts in the bathroom we speculated as to what was wrong with us and decided that it must be motion sickness. We hadn't drank that much at Sloppy Joe's and we felt fine upon returning to the ship. The food at dinner was fine as well. Hmmm....
Carrie said she was going to lay down 'just for a few minutes' and almost immediately fell asleep. Poor Ashley sat on her bunk and asked me if I knew when the kids activities started. I knew it wouldn't be fair to her to make her sit in the room and watch us both sleep so I put my tie back on took her up to the America's Cup Club, where the Cadet's were scheduled for their next activity at 8:30pm. Arriving just in time to see them come in, Ashley was greeted with hugs and waves and I signed her in. My only problem now was that I needed to stay alert until one o'clock so that I could pick her up from the Slumber Party which ran from 10:00pm - 1:00am. Carrie was asleep and I felt completely rotten.
"Does it feel like we're tilting to the left?"
- me, at dinner experiencing my first bout of motion sickness
I had heard something about sea sick pills or a patch you could get from the medical staff. At this point I was willing to pay someone to help me feel better. I made my way back down to our deck, which also happened to be the deck of the guest relations desk, and asked the nice girl behind the desk where I could get something for motion sickness. "Right here" she replied and handed me a paper envelope. "Do you have any heart or lung problems?" she asked, reiterating the warning on the outside of the envelope. "No, I think I'll be fine." I thanked her and went back to our room. There were four pills in the envelope and the instructions said that they were good for twelve hours, so I took one immediately. I left a note for Carrie to take one when she woke up and went back to the Marina Deck to get some air.
Making a long story a bit shorter, I picked up Ashley (who was still feeling fine, by the way) at 1:00am in the children's playroom and made it back to the room and collapsed. Carrie said she had woken up to be sick again while I was gone, but was asleep when we came in. The three of us turned out the lights and prayed for morning.
---
Return to INDEX