Day 3 - At Sea
Waking up around 8:30, we all felt well-rested. It was pitch black in our room which actually helped in our case. We slowly got moving and got dressed. Before too much longer we were on the Marina Deck and ready for breakfast. The sky was a clear blue and the sun was out. The water seemed a bit calmer as well and the motion of the ship wasn't as evident. (I heard a rumor that the ship speeds up at night and slows down during the day. This may have accounted for the rough sea last night.)
"Yeah, Ashley's in 'the program' and we're on 'the pill'"
- me, explaining the previous evenings events at breakfast
After being sick the previous night, we were hungry, so we took it as a good sign and dug into the breakfast buffet. Here is where I discovered my breakfast home for the rest of the week: the omelet station. Omelets made fresh right before your eyes with every ingredient you could possibly want. Breakfast meats, pastry, fruits, cold cereals and oatmeal were in abundance at the buffet. We ate heartily.
After breakfast we found a spot on deck and just hung out, enjoying the sun and the warm temperatures. At about noon we sat and listened to the ship's deck band 'BonaFide'. They had been around the last couple of days, but this was the first time we really sat and listened to them. They were great! They played lots of 'island' music and a whole bunch of traditional favorites as well. They always opened with a rousing chorus of 'Day-O'. "Daylight come and me don' wanna go home..." It was a big crowd pleaser. They seemed hesitant at first to play Margaritaville when somebody yelled up a request, but soon accomodated and led the entire deck through a sing-a-long of Jimmy Buffet's greatest hit. Red Red Wine, Matilda and the Electric Slide (complete with line dancing) were huge favorites all week long.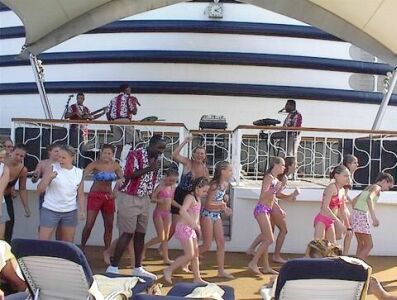 &nbsp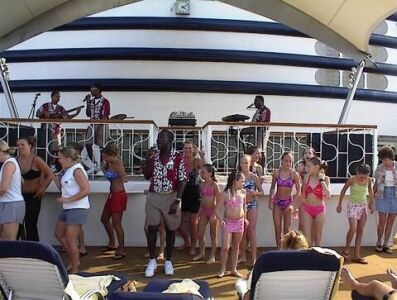 Today was Ashley's formal introduction to the swimming pool. The kid is a fish, I swear. We had the hardest time getting her out of the water. She had a fabulous time. It did take her a bit by surprise, however, to find that the pool and hot tub were both filled with salt water from the ocean. An hour or so of splashing around was always followed by a drippy wet kid sitting on the deck wiping her eyes with a towel to get the salt out. Followed by more swimming. There are no lifeguards and signs are posted to swim at your own risk so Ashley wore her bright orange 'water-wings' all week long. This helped too because by the end of the week there were tons of little tan kids in the pool. Ashley was easy to spot with her wings on.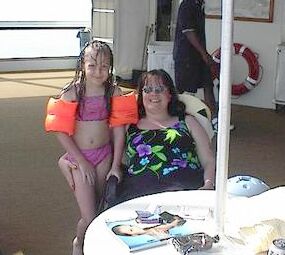 After 'BonaFide' played their last number, we were ready for the deck activities. Today's was called 'King of the Cruise'. Four volunteers were selected by the assistant cruise director, Cory, to generally do anything he said in an effort to gain votes to be elected king. There was some sort of strut competition, a tarzan-yell competition and something called the 'prince of pain' whereupon each candidate would perform his best, most pain-inducing belly-flop into the pool. By the end of the competition, a bald guy named Matt from Wisconsin had won everyone's heart. He was a riot. The final event put each guy in a different corner of the pool where they would do whatever they could to get people off their deck chairs to join him in his corner. The candidate with the most 'subjects' was announced as the 'King of the Cruise'. Suffice to say, Matt won handily. Even promises of free drinks from the other candidates couldn't break our loyalty. Matt was crowned and we were asked to address him as 'the King' for the rest of the trip. Which of course, we did.
"All Hail King Matt from Wisconsin!!"
- everyone at the 'King of the Cruise' event
Lunch was served in the Coral Seas Cafe (the same buffet area as breakfast) with an added treat. Behind the buffet was an area named 'The Grill'. From 12:00 noon until 3:00pm every day you could get yourself hamburgers, hotdogs and fries with just about all the trimmings. Pickles, tomatoes, relish, saurkraut, onions...they were all available. And everything was AWESOME. (Of course, I really, really like burgers and dogs, so I may be a bit biased here.)
Around 4:30pm we dragged ourselves away from the pool and made our way back to our rooms to shower and get ready for dinner. Upon arriving in our rooms the first thing we did was take a sea-sick pill. I heard somewhere that they work much better if you take them before you are sick, rather than after symptoms start (such as last night), so we weren't taking any chances. Dinner was amazing as usual and we got to know the wine stewardess Andrea. Even though we didn't didn't drink wine during the week, Andrea stopped by our table every night to see how we all were and ask what our plans were for the next day. At first I thought she was just kinda milking for a tip at the end of the week, but it didn't take long to realize that she was sincerely concerned with how we were all doing. She never failed to give great advice on places to go and things to see on the ship and ashore and was generally a riot with some of her stories. She had mentioned that she was from Croatia and Cindy, ironically, knew a few words in her language. Cindy floored Andrea one night when she was saying goodbye and Cindy said "Laku noc!" (good night). Needless to say we were one of her favorite tables after that!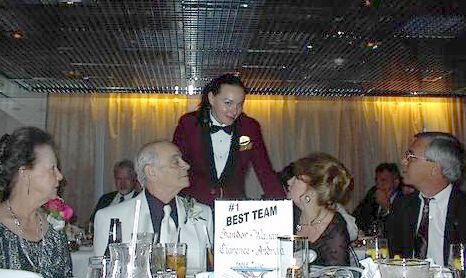 After dinner we entertained ourselves in the Casino Royale. Open only while the ship is at sea (never open during port stops) the casino was way bigger than I had envisioned. There must have been a hundred slot machines ranging from nickle slots to $5 slots (both video slots and reel slots). Blackjack tables, poker tables and a roulette wheel. Tonight Carrie managed to turn $10 into $34 on a quarter slot machine, while I lost $20 in record time. I had heard that a few people in our party had won big throughout the week, but I don't recall anyone going home with any winnings.
"...and as always the Casino Royale is open and taking donations!"
- John Howell, Cruise Director, during his speech after the shows
Tonight's show was a comedian, Jeff Bradley. He was pretty funny, especially his grand finale with the cigar boxes (you'd have to have seen it to know what I mean). Almost immediately after the comedian they played the "Newly-wed-not-so-newly-wed game". I hate to admit it, but this was funnier than the comedian. They got four married couples ranging from being married for 3 days to 39 years. Ironically, the newly-weds won the whole thing.
"Altoona, Pennsylvania"
- best response to 'where's the strangest place you've ever made whoopie' question
Tonight's midnight buffet was the Caribbean Island Night Celebration. I'm still kicking myself for not bring my camera to this one. It looked like what I'd always envisioned a Hawaiian Luau looking like. Tropical fruits, coconuts, ribs..oh my! They even decked out the pool with a floating palm tree and there was dancing and live music. It was pretty amazing. Our assistant waiter Wayan was working the ice cream sundae bar and asked us where Ashley was. We told him she was in 'the program'. He seemed to be actually disappointed. He showed us all the ice cream toppings and said he thought Ashley would love to be here. I looked at Carrie and almost in unison we said "We'll go get her". There was no sense in her sitting below deck watching a movie tonight anyway. She'd love this!! We returned with Ashley in tow about ten minutes later and Wayan fixed her a giant Caribbean sundae which she had a hard time finishing off. I was really impressed with Wayan and ultimately glad that we chose to go get Ashley.
---
Return to INDEX