Day 6 - Georgetown, Grand Cayman
On deck in the morning as usual we watched as we drew closer to Grand Cayman. The water was pretty rough but the weather was once again beautiful. As we were formulating our plan with everybody as to where we were going to go and how we'd get there we heard the bells which signalled an announcement from the captain. Everybody got real quiet. "Due to poor conditions, the port of Grand Cayman has been closed. In the interest of safety, we will be unable to anchor and tender passengers into the port of Grand Cayman. We apologize for any inconvenience this may cause and will be enjoying another day at sea. Your room attendants will be dropping off revised activity schedules to your staterooms shortly to accommodate for the extra time at sea." (Well, that wasn't it exactly - but that was the general gist of it - we weren't going.)
Everyone was bummed out. I even heard that the crew was bummed because it meant that the few hours off they usually get to enjoy when everyone was in port wasn't going to happen today. They were all going back to work.
"I'm bummed out. I need a hot dog."
- me after finding out we weren't going to Grand Cayman
We made the best of a bad situation and spent the entire day at the pool. The activities crew was outstanding filling in for the extra time and made sure that everyone had options to keep themselves busy. We were assured that we would be back in Tampa on time on Sunday morning (nobody wanted to hear that!) and we were heading for calmer waters.
Lunch brought another round of burgers and dogs from The Grill (so I was happy!) and Ashley spent the day subjecting her braids to the salt water in the pool. There were a number of activities happening on the pool deck and of course 'BonaFide' played for an hour or so and got everyone in a good mood. We had made friends with one of the pool wait staff and he cheered us up with a couple buckets of beer and introduced me to a new sensation: A Bailey's Banana Colada. Very tasty!
Dinner tonight was to be the last formal night and as surprised as we were, Ashley decided to opt out of dinner in the restaurant. Every formal night, the kids were offered an alternative dinner so that the adults could dine in peace and Ashley decided to take part in that nights Pizza Party. Just before dinner we signed her in and made our way to the dining room.
Everyone was surprised that Ashley didn't want to be there because tonights dinner was the 'Baked Alaska' parade. Even Wayan was shocked, but he dutifully cleared her place setting and we went on without her. The main entrée tonight was prime rib or lobster tail among other delectables. Being the cruise-pig that I had become I ordered both the prime rib and the lobster tail. They were outstanding! Sandor delivered everyone's lobster tail to the table then proceeded to shell the tails for us. Setting the empty shells aside we all dug in. Rick was surprisingly unimpressed with his lobster tail and asked that it be sent back. Sandor quickly brought him another which he said was better, but he'd already eaten some of the first and just wasn't hungry anymore. It was the first time all week that the food wasn't excellent all around. Shortly thereafter, Wayan came by to clear the plates and told everyone not to throw away the lobster tail shells because they have to re-stuff them for the next dinner seating. His delivery with such a straight face took everyone at the table back for a second before we realized he had made a joke! And it was funny!! We all had a great laugh at the thought of all the chef's re-stuffing lobster tail in the kitchen before the next seating.
Just before dessert, the lights went dim. An announcement was made throughout the dining room that they were going to introduce the chefs and wait staff. As each name was called a chef or maitre'd went through the dining room and took a bow to rounds of applause.
&nbsp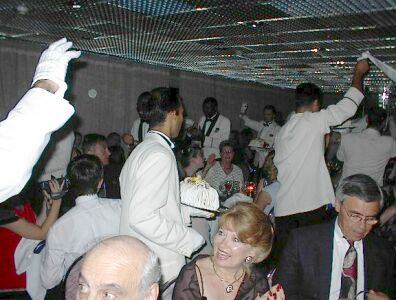 &nbsp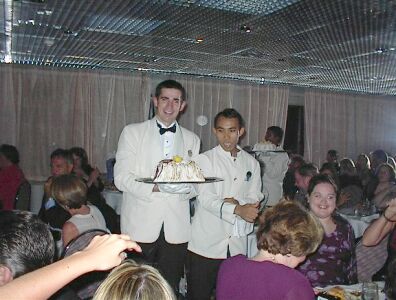 After the parade, the lights went back up and we all took part in our Baked Alaska. It was really very good, even though I'm not normally one for desserts and sweets. Our last formal night was a rousing success!! (Especially considering our first formal night was a huge mess with Carrie and I being stuck in our room with motion sickness.)
Following dinner we all met in the Rendezvous Lounge for pictures. Mom and Papa Pete wanted pictures of all the kids and we finally got them as many as they needed to complete their 'family picture wall' at home.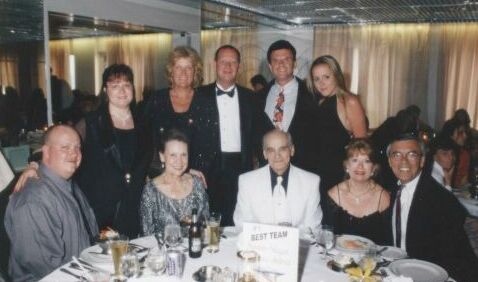 The midnight buffet tonight was 'le Buffet Magnifique' (or something like that). They opened the doors to the dining room at 11:45pm for a half hour to let people in to take pictures. Tables full of food all creatively displayed in little scenes and shapes. Giant ice sculptures! Flowers made of dyed turnips, butterfly shrimp on cucumber logs, and Indian headdress made completely of melons and grapes. It was awesome. I heard many people in line comment on how it was a shame to eat something so beautiful. I, however, felt that it would be a shame to waste such beautiful food! I was in line later that evening to eat up some of that gorgeous display!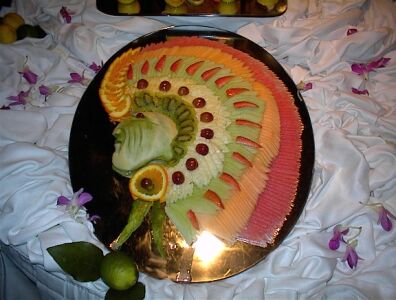 &nbsp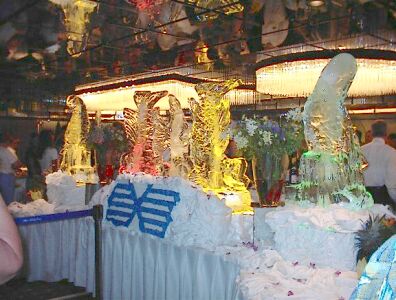 ---
Return to INDEX