Day 7 - At Sea
We had planned the night before for today. Bobby had volunteered to be awake early and stake out a good place at the pool. Our last day and a day at sea was going to be spent by the pool in the sun listening to music.
Breakfast by the pool was another rousing success. I had what would turn out to be my last omelet and Carrie and Ashley pigged out on fruit and bacon. Even Cindy and Rick made it! (They usually got up too late to partake in the breakfast buffet). Shortly after we all arrived Mom and Papa Pete stopped by and said that they'd like to spend the day with us at the pool. They even promised to wear their bathing suits.
'BonaFide' got on stage and told us that this was the last time they'd be playing for us. Everybody boo'd. They asked who had to go back to work on Monday? A bunch of hands went up. Then they asked who had to go back to work on Tuesday? A few more hands (including mine) went up. Then they asked who was never going back to work again!? Everyone cheered and they began their set. They really made the days at the pool fun.
A few people volunteered to stay and keep the table by the pool while we left at 11:00am to go see Ashley in the kids talent show! All week long, each of the different age-groups had been busy signing up and thinking about what they'd like to do for the talent show that was held in the Palladium Show Lounge on the last day at sea.
Ashley thought long and hard before she decided that her talent is her artwork. (She really is a good little artist - and that's not just because I'm her dad. She's really good!) But she needed a way to present it. Hmmmm... After speaking to Cathy about it the past few days, she and Ashley came up with an idea. Cathy lent Ashley a long white scarf and Ashley drew up six different drawings. We would then pin the drawings on the inside of the scarf and Ashley would wrap the scarf around herself. When the time came, she would go on stage and tell everyone that she had a hidden talent and that if everyone would clap really loud she would show them her talent. She would then open the scarf and display all her artwork pinned inside. It was a unique idea and Ashley was all for it.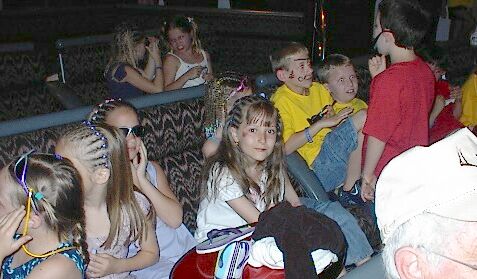 They started with the teenaged group and worked thier way down to the youngest group. There were piano players, singers and even an incredible little gymnast! When it was Ashley's turn to go up - she said her lines just like she practiced and everybody cheered. The MC then asked her about her drawings and Ashley described them for everybody. She had done well and was pleased with herself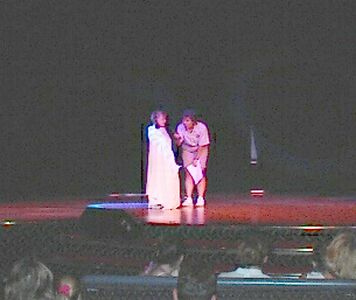 &nbsp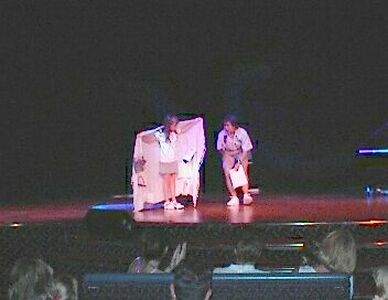 After the talent show, it was back to the pool! Nicole and Rick decided to sign up for the Blackjack tournament in the Casino, so off they went to try their luck. Cathy did some last minute shopping and then mom and Papa Pete turned up! And just like they promised... they wore their swimsuits!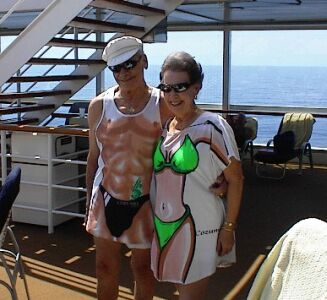 &nbsp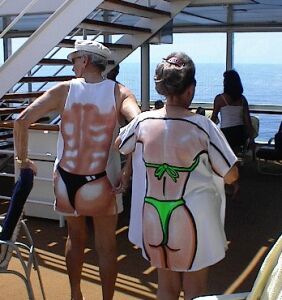 We spent the rest of the afternoon sitting around the pool and talking over the events of the past week. Beers were drank, burgers were eaten and music was played. We bid farewell to our bar server, Kenneth, and promised him that there would be crazy people like us on the cruise next week, we were sure of it. We also told him we'd be back. We didn't know how or when...but he should save us a beer and a seat by the pool. He agreed and waved goodbye.
Back to our rooms to shower and dress for our last dinner in the Starlight. After dinner we took all of our tip envelopes and handed them out to Sandor and Wayan and our maitre'd, Lorenzio. They all wished us a safe and happy trip home and looked forward to seeing us again on another cruise in the future. We all agreed to that and told them that we'd see them again someday!
After dinner it was time to check Ashley into 'the program' for the last time and spend our last night in the Rendezvous Lounge waiting for the final show of the week. One of the bar servers in the Rendezvous we had all made fast friends with throughout the week was Clarence. Clarence also took our drink orders at dinner so it was with a heavy heart we all wished him luck and ordered our final after-dinner drinks. We thought Rick was going to miss him most of all so we asked him if he would pose for a picture with 'Mr. Rick' (as Clarence called Rick) and he readily agreed!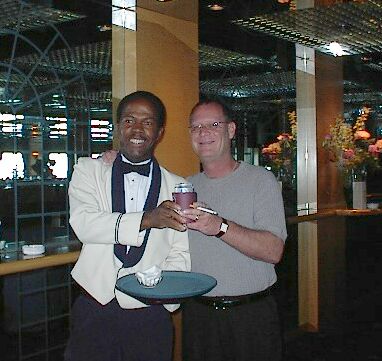 The show the last evening was a combination of all the shows previously. A little Broadway, a little magic (we'd missed him the first time around - he was really good) and comedy and finally the showing of 'Your Cruise in Review'. A video camera had been prowling all over the ship all week long and here's where we all got to see what it was capturing all that time. It was really fun watching all the events we had attended and seeing highlights of the events we missed. Ashley was on the tape about ten times whenever the subject was something happening at the pool. Just behind the action you could always spot Ashley sitting on the side of the pool with her water wings on!
"Bye!! I'll see you next year!"
- Ashley, saying goodbye to her youth conselors
The videotape was available for purchase for $20, but other than Ashley in the background all those times and quick glimpse of my mother at the captains party, there was no real footage of any of us on it - so we passed on that purchase.
After the show we spent some final time trying our luck in the casino. Still no luck though. Soon after, Carrie and I decided to go get Ashley and take a final walk around the ship. Ashley didn't seem too horribly broken up about leaving but she did say all her goodbyes. She waved and hugged her counselors and told them she'd see them next year! (I hate to have to explain to her that this isn't something we could afford on a yearly basis!)
We wandered around and talked about steps we should take at home to start saving money to do this again. We were hooked on cruising! We watched the wake from over the side railing and strolled down toward the back of the ship. We saw parts of the ship we hadn't seen all week! We felt cheated that there were things that we didn't get a chance to do. Ping pong, a golf net... even a bench that just overlooks the back of the boat as you sail off. Where had all this been? More importantly, where had we been? A happy kind of depression set in on all three of us as we made our final rounds. Happy that we got the opportunity to have this experience and bummed out because it was all almost over.
---
Return to INDEX