Day 8 - Disembarkation Day
What a horrible day. We had to be out of our rooms by 8:00am. After collecting our carry-on bags and doing one last double-check of our room, we put our room key-cards in the holder on the wall and bid room 5017 goodbye. Arriving on deck for our final breakfast it was just starting to rain in Tampa. Masses of people gathered with their bags and made one last pass through the buffet. Somehow the food wasn't as wonderful as it had been the previous mornings. There was no omelet station (down for cleaning), no tomato juice and the selection seemed a little less inviting. The food was good, don't get me wrong, it's just that we were surrounded by people like ourselves that were preparing for a long wait to disembark the ship for the final time and go back to our real lives.
"Welcome to reality!"
- Ashley, facing the fact that we were going home
Our luggage tags were color coded and our color was brown. Second to last color to be called since our flight out of Tampa wasn't until 4:50pm. We found our way to the Rendezvous Lounge and found few empty seats. Even the lounge looked sanitized. All the bottles were gone from behind the bar, the ashtrays were gone from the tables (to prevent souvenir collecting, we thought) and the lights were turned all the way up making the whole place look less glamorous. *sigh* Nothing to do now but wait.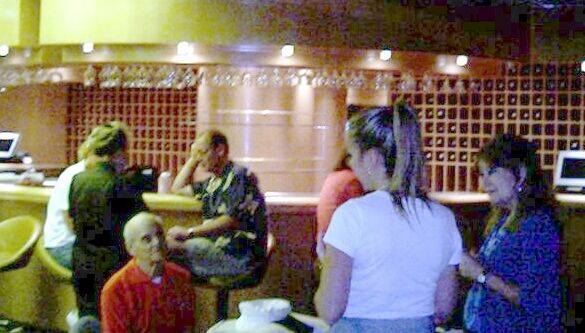 At about 10:15 they finally announced the color brown. Winding our way down to the gangplank we trudged out the door for the last time. Down the ramp and back to the Celebrity building in the Port of Tampa. Wow, what a difference from a week ago. It was hard to believe that in just a few hours this place would be bustling with new cruisers standing in line, showing their I.D.s and getting their pictures taken. A whole new mass of people getting aboard and trying to figure out where the Coral Seas Cafe was so they could get some lunch. Lost people with wide eyes trying to figure out where their rooms are. And here we were going home.
Getting through customs wasn't bad but the lines were huge. More waiting. Standing in the rain waiting for our shuttle bus. Rain-streaked windows on the way to Tampa Airport. Yes indeed Ashley, "Welcome to Reality".
Arriving at Tampa Airport around 11:30 we were informed that we could not check our bags more than four hours earlier than our flight. Not only were we stuck in Tampa Airport until 4:50, we were stuck with all of our luggage in front of the bag check station for another hour.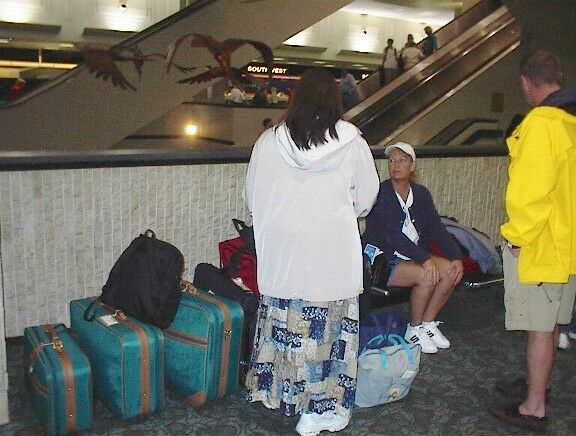 Eventually we checked our bags and looked around the airport for something to eat. We ended up at a combination Taco Bell / Burger King. Rick took great pleasure in announcing that it was the first food he had to unwrap to eat in over a week. We looked around for Sandor and Wayan but finally realized we'd be throwing away our own garbage from now on. After our lunch we took the shuttle to our gate and waited in yet another line to get through the metal detectors. Once through, we found a smoking-allowed, bar /cafe and relaxed for the next 3 hours.
The plane ride home was a little rough but we made it O.K. The pilot came on and announced that the temperature in Cleveland was a toasty 33 degrees. The entire plane groaned. When we touched down on the runway there was no clapping or cheering. Just a plane full of people trying to get to where they were going. Carrie's dad picked us up and brought Ashley a winter coat (Carrie and I had to fend for ourselves. At least we wore long pants home, unlike Cindy and Rick!).
We got home and we felt a little better when we started describing the trip to Carrie's parents. We showed them our daily planners and gave them their souvenirs. It almost felt like we were on the cruise again. Almost.
---
Return to INDEX